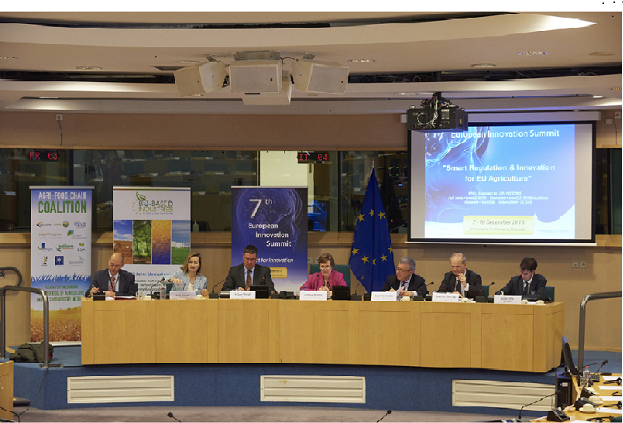 At the end of last year, I was invited to speak at a Knowledge 4 Innovation meeting in the European Parliament in Brussels on the subject of Smarter Regulation and Innovation for EU Agriculture chaired by West Midlands MEP Anthea McIntyre. This particular session was part of a bigger weeks activity on innovation but it was good to see that #AgInnovate was trending that day, albeit in Belgium.
My first thoughts were around what was going on at the Climate change talks in Paris at the same time as our session in the European Parliament wondering what our children or grandchildren might say about the success or failure to make an impact on global warming when they look back to the mid-2010s. Perhaps the same is true for agricultural policy makers in Europe - what would our children or grandchildren say about the seemingly mad drive to make Europe less and less productive when it comes to growing food, animal feed and biomaterials?
It seems to me that the precautionary principle, which appears enshrined in European law, has been mutated from a way of stopping people being too gung-ho with innovation, to an excuse to "not do something just in case". Perhaps an Innovation Principle should have a place in European policy as a counter-revolutionary measure to the precautionary principle, encouraging people to improve on what we have. Should we be gung-ho about innovation? Of course not, but neither should we be scared of it, let alone actively discourage it. 
There are a large number of disincentives for investment and innovation in the EU including heavy administrative burdens put on innovators, absurdly costly and complicated compliance procedures, and even if you come up with an excellent innovation in agriculture, there are malfunctioning and dysfunctional regulatory systems there to inhibit their uptake.
We currently have the most onerous and all-encompassing regulatory systems in the world, especially when it comes to pesticides and GMOs. Despite that, even if the European Food Safety Authority clears products as being perfectly safe for use, we still have huge political problems getting new products to the market. A block on innovation? - oh yes! 
For example, the GRACE Project - a project set up by the European Commission to look at 90-day rat feeding trials to check the safety of GMOs. Conclusion? Apparently they are unnecessary, according to scientists on the project. Will the Commission change its mind on their implementation? Apparently not.
On bees and neonicotinoids, we have Dr Michael Fluh, head of the Chemicals Unit at DG Sante, saying that the Commission knew that banning some uses of Neonicotinoids in Europe would not have a significant impact on bee health, but that it was the only thing that they could rapidly legislate on. Good science? I do not think so. 
A 2013 Humboldt Report suggested that a 1% increase in agricultural production across the board in Europe can feed 10 million more people. But the reverse is also true, for every 1% drop in productivity in Europe, we have to import enough food to feed another 10 million or so Europeans, putting even more pressure on the rest of the world's food security.
So perhaps we should not be surprised when we see the Phillips Mc Dougall report which suggests that of the $6.5 billion that is invested by companies in agricultural research, the amount dedicated to European agriculture has been slashed from 33% in the 1980s to less than 10% today. Although it is interesting that Bayer bucks this trend a little: for every £10 of sales, £1 is reinvested in finding new products, and that our investment in Europe is actually over 20% of our R&D. Nevertheless, it is clear that when it comes to companies investing in agricultural innovations for Europe, most of them are voting with their feet.
So my question to the European Commission and members of the European Parliament was, did they REALLY want innovation in agriculture, or were they happy for the rest of the world to be describing Europe as a very large museum of agriculture?
Related articles
All Farming Matters blog
The UK's Agricultural sector has a huge challenge with Lantra telling me the sector needs 600,000 new entrants with land skills by 2020. Agritech is part of this and is one of the key sectors in the Government's industrial strategy, but despite all the great initiatives going on, are Generation Z aware of this? And in the numbers required?

In July we hosted a day out in London for our four Youth Agricultural Summit 2017 delegates for the UK and Ireland. As the next generation, we invited them to share their thoughts on their experience of agriculture so far and what they hope to gain from the Summit which is taking place in Brussels later on this year.