Bayer Crop Science's Commercial Training Programme is looking for people who have the potential to be our commercial managers of the future – the people who will lead our company into its next successful stage of growth and development.
Bayer Crop Science is one of the world's leading innovative crop science companies in the areas of crop protection, seeds and non-agricultural pest control. It has annual sales of EUR 8,819 million and a global workforce of 22,400 across more than 120 countries.
The training programme
From your very first day, we will provide you with continuous training and support to assist you in your personal career development. You will have a mentor who will provide assessment of your projects and give you feedback on areas of development.
The Commercial Training Programme will consist of a structured plan allowing you to experience time in key functions including:
Sales – you will spend time with our sales team, and become qualified to give technical support and deliver product briefings
Marketing – marketing is crucial to how we plan our product development and communicate with our customers. You will be involved in the development of product launch plans and marketing campaigns
Development and regulatory affairs – you will become involved in the process of securing registrations for our new products, ensuring that we remain at the forefront of global product developments
During the programme you will be given a number of projects which are aimed at developing your understanding of the business and contribute to improving business performance. In addition, there will be an external secondment, so you can learn about all aspects of our industry and better understand the priorities of our customers, and the opportunity to spend time in one of our European offices.
Who are we looking for?
You must have a commercially relevant degree or proven past experience.  We will consider any degree or experience that gives candidates the skills we are looking for. However, we are particularly interested in individuals with qualifications or experience in agriculture, economics, marketing, mathematics or sales.
Being mobile and flexible is vital. The Commercial Training Programme will require you to work from various locations in the UK, and potentially abroad. We need you to be flexible and mobile to take advantage of these exciting opportunities.
Be ambitious as successful completion of the Commercial Training Programme will equip you with skills to reach the very highest level of management. We are looking for individuals who are keen to take on the challenges that this career path will require and excel at all levels.
Have excellent communication, organisational and analytical skills as we are looking for individuals who can communicate with a diverse range of people at all levels inside and outside of Bayer, and approach their work analytically and systematically to produce consistently high results.
 What happens at the end of the programme?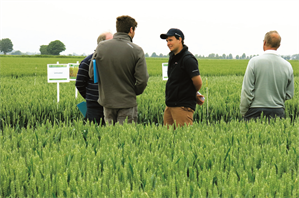 The Commercial Training Programme is designed to equip you for wherever you wish your career to go within the company. Upon successful completion of the programme we would hope to offer you a position in a commercial area and provide you with a clear career route to progress to management level.
We are the leading company in our industry, and we are looking for the very best candidates to help us move to the next level. In return we will provide the most comprehensive and diverse Commercial Training Programme to fully equip you for your career with us.
What can I expect in return?
The successful candidates will be generously rewarded, not only with experience that is unrivalled within the industry, but also with:  
Excellent starting salary and pay progression
A generous living allowance and company car
Attractive company benefits
Opportunity to gain further professional qualifications
What to do next
If you are interested in establishing a career with an industry and world-leading company and think you have the skills we are looking for, we would love to hear from you. Please register your interest in applying to be our next Commercial Trainee by sending an email to: commercialtrainee@bayer.com.
Applications close each year on 31st January.  More details about the programme can also be found here: letsgrowtogether.co.uk